2020-21 一條龍獎學金結果公佈
Announcement of Through-Train Academic Scholaship
目的:鼓勵學生原校升中,實踐一條龍的教育理念,成就所長。
Aim:TO FACILITATE STUDENTS PROGRESS TO THE SECONDARY SECTION SO AS TO FULFIL THE THROUGH-TRAIN EDUCATION CONCEPT AND TO REWARD ACHIEVEMENT.
對象:曾在小五或小六年級,全年成績名列全級首十五名,並在首輪選擇原校升讀中學的學生。
Target : Students who rank in the top 15 in P5 and P6 and choose TCCS in the intial selection.
各級獎項 Contest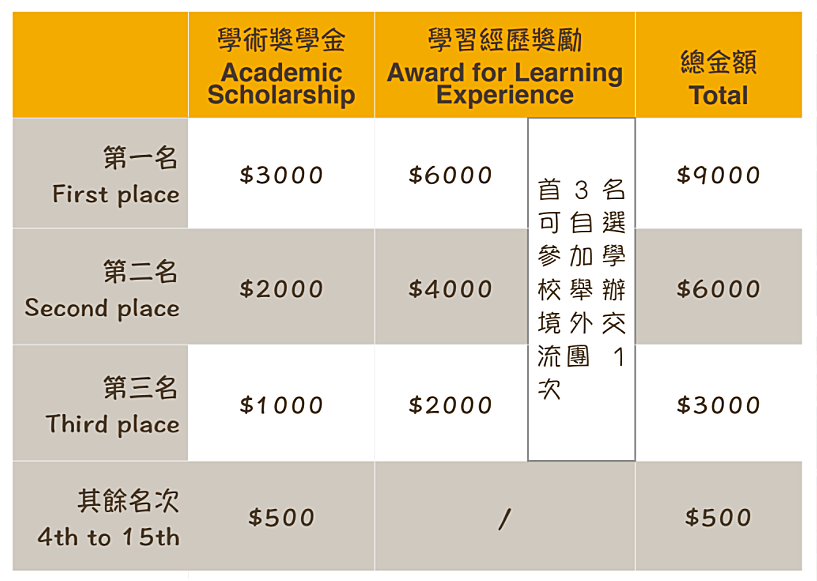 得獎名單 Winner List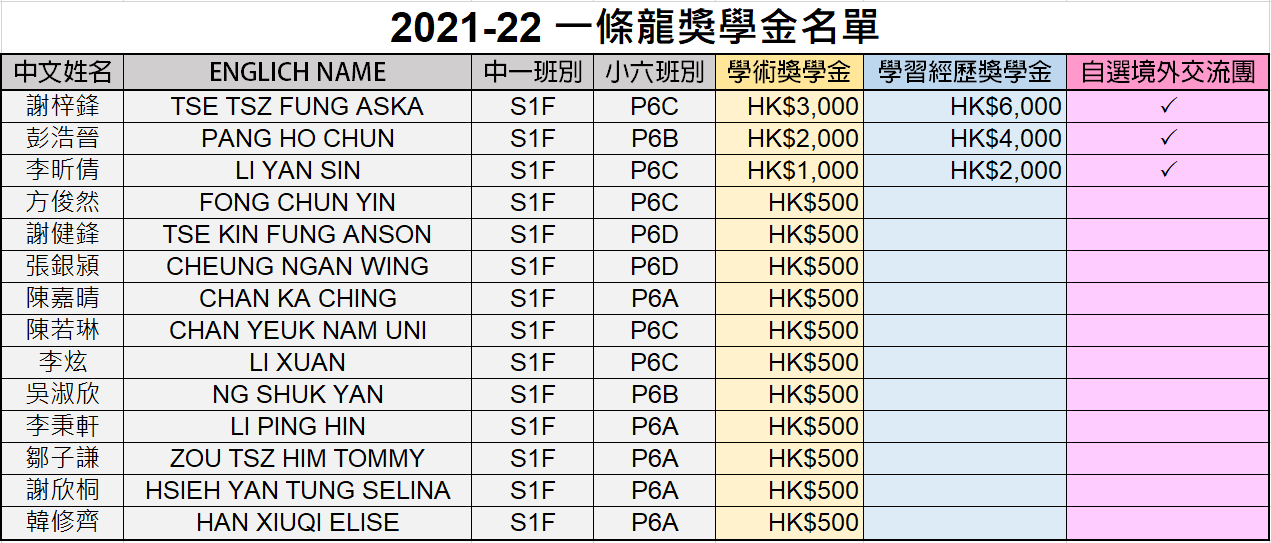 備註: ❖ 所有達標學生把小五及小六兩年全年成績合算,按名次獲得獎學金。 ❖「學術獎學金」將存入學生獎學金賬戶內。 ❖「學習經歷獎勵」資助學生在中學階段參與最多兩次境外學習活動。
Remarks: ❖Students are eligible if they rank in the top 15 according to the academic performance in primary 5 or 6. Also, they must be promoted to the secondary section of TCCS. ❖All qualified students are ranked based on their overall academic performance in both primary 5 and 6. ❖The "Academic Scholarship" will be deposited into the scholarship account of students. ❖The "Award for Learning Experience" allows students to participate in the overseas learning activities twice in their secondary school life. ❖There is no replacement mechanism if any student gives up the scholarship.
Published at 10/09/2021