Learning English at TCCS
In Tung Chung Catholic School (Secondary Section), we aim to:
promote the enjoyment and fun of learning English;
nurture active learners who take responsibility and accountability in language learning;
establish an enjoyable reading culture and cultivate a lifelong reading habit in our students;
boost public speaking and oral confidence in conversation;
offer students an experience of Western culture in and out of the classroom;
maximize publication opportunities for students – in print or on display boards; and
create a positive English language-learning environment through our rich school-based curriculum and diversified extra-curricular activities.
Our Members
Panel Head:
Miss Janet Chung
Assistant Panel Head (Senior):
Miss Cherrie Lam
Assistant Panel Head (Junior):
Miss Lareina Tam
Native English-speaking Teacher (NET):
Miss Indra Gill
English Teachers
Mr. Au Yeung Chun Fai, Miss Clara Cheung, Miss Danis Chan, Mr. Paul Mak, Miss Dewi Tang, Miss Vicky Tsui, Mr. Joseph Young, Mr. Matthew Yeung, Miss Cindy Yu, Miss Zakiyyah Wahab
Associate Teacher
Mr. Brian Leung
Highlights of the Junior Secondary Curriculum
English Readers
Language across the Curriculum
Self-learning Programme / Active Learning
Highlights of the Senior Secondary Curriculum
S5 Oral Practice with the NET
S6 Oral Practice with the NET
Self-learning Programme / Active Learning
Weighting of Papers
to be confirmed
English Activities and Students' Achievements
Hong Kong Schools Speech Festival
Congratulations to Corpuz Maryjoy Bernardo of S.3E for coming second in Solo Verse Speaking at 71st Hong Kong Schools Speech Festival.
Inter-class Junior & Senior Drama Competitions
Our inter-class drama competition is held every year. All classes from S.2 to S.6 produce a play at the audition. Eight classes make it to the Finals. Five prizes, including the Best Play, the Best Original Script, the Best Stage Management, the Best Actor and the Best Actress are presented to both junior forms and senior forms.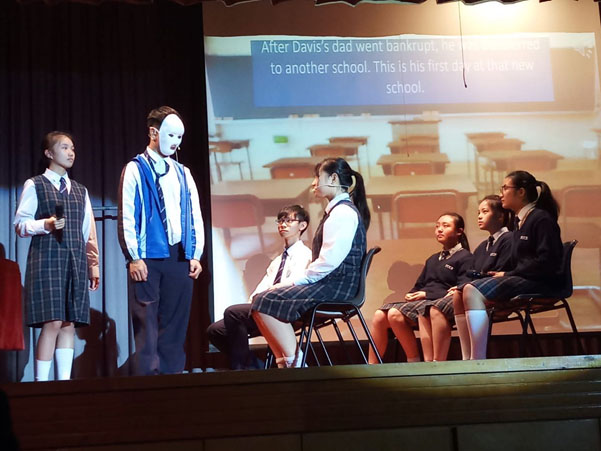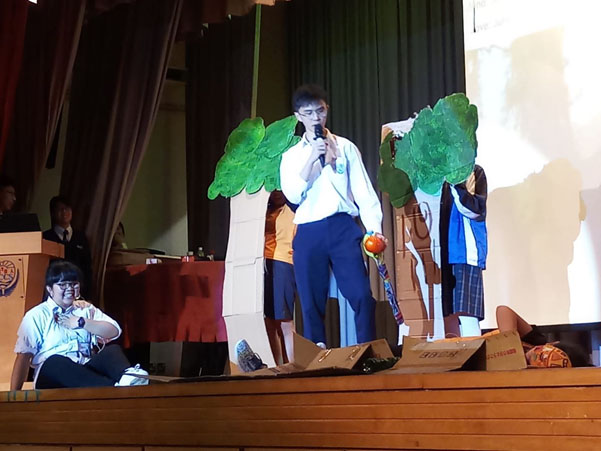 S1-S3 General Knowledge Quiz and Spelling Bee
This competition is for S.1 to S.3 students. Representatives of each class gather in an afternoon to get the better of their counterparts by spelling the most number of correct words and giving the right answers to questions about the world. Winners of each form then progress to the Finals where they have to beat the best of the other junior forms to become THE BEST OF THE BEST!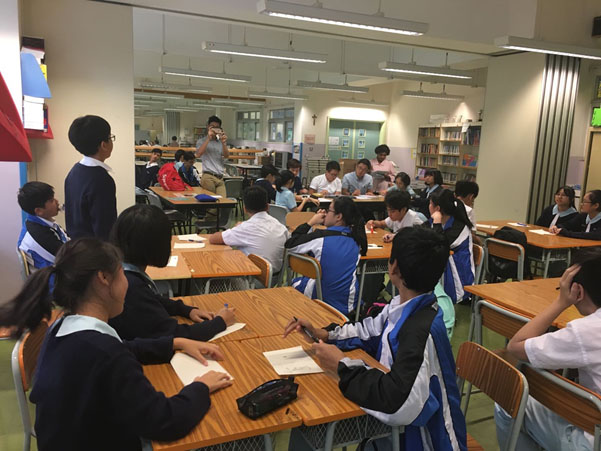 S5 Scrabble Scramble
Scrabble Scramble was first introduced by the English Guides. They started by holding a challenge against Miss Gill, our NET, at recess and after school. Slowly, more students joined in and made their words. As there was such eagerness displayed by the students, Scrabble Scramble will continue and involve more classes. Stay tuned for the announcements of this year's Scrabble Scramble.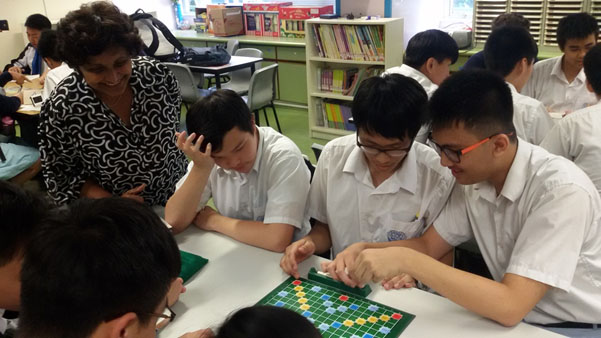 English Guides
English Guides help to promote the use of English in our school through conducting English Morning Assemblies every Tuesday, mingling and interacting with schoolmates in English, as well as helping out at various English school activities.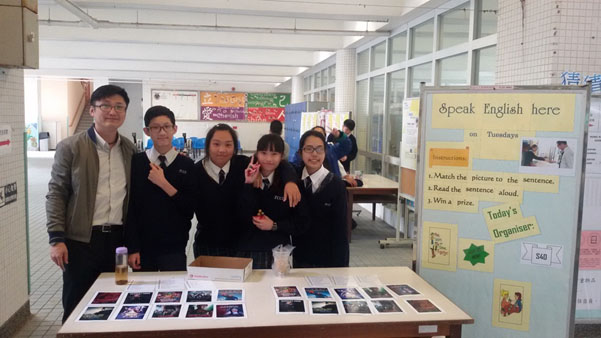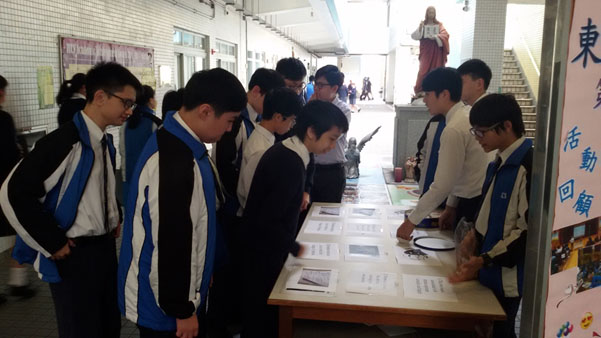 Hong Kong Catholic Diocesan Schools Talent Show
The Hong Kong Catholic Diocesan Schools Talent Show is an annual English competition where talents and stars of all Catholic Diocesan schools gather to shine on stage and win over the crowd.